We are proud to have partnered with Recovery Can Happen, LLC to bring their North Carolina Approved Certified Peer Support Training to the online setting. Combined we have over 50 years of experience in education, instructional design, addictions science and human services programming.
We have immense pride in our program and graduates.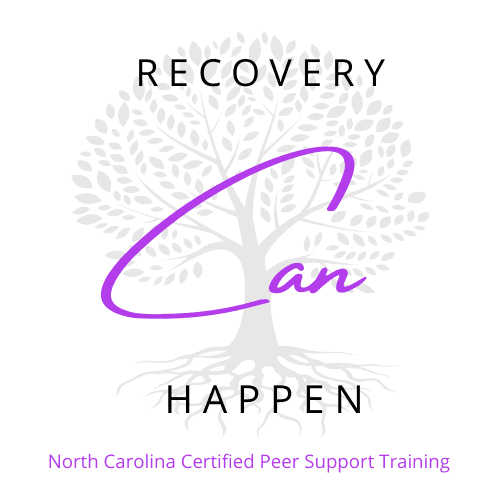 What makes our program different?
Recovery Can Happen Peer Support Training Tracks Net Promoter or Net Promoter Scores. Net Promoter Scores are a widely used market research metric that typically takes the form of a single survey question asking respondents to rate the likelihood that they would recommend a company, product, or service to a friend or colleague.  We survey all of our students at the end of their training experience.  Our current NPS Score is based on the question of "How likely is it that you would recommend the training to a friend or colleague"?  Our Average Score is 9.81 on a scale of 10.    What does 9.81 mean?  The score fits into a respondent category of Promoters (scores of 9-10) who are loyal enthusiasts who will refer others, fueling continued interest in our training program.
Recovery Can Happen is a NCCPSS training curriculum written by Terri Spears, MS, LCAS, CPSS
I thoroughly enjoyed this course, I have learned so much and look forward to sharing my experiences and the tools that I learned during the course to help others change their lives. The instruction was more than I ever could've expected, everything was clear and easy to understand. I feel I now have the tools to move forward productively and know my role as a PSS. I am very grateful for Terri Spears and the thought and effort that was put forth in this course!
Recovery Can Happen NCCPSS training is designed to equip participants with a clear knowledge of the roles and responsibilities of a PSS, how to work with a team, navigate systems, resolve conflict, adhere to ethics and agency standards, all while modeling that Recovery CAN Happen and offering living hope to those with substance use disorder and/or mental health concerns.
More than simply lecture and Q&A, Recovery Can Happen training is alive and participatory. Terri has developed a training curriculum considering various learning styles that is interactive, engaging, and energizing. This is a 40-hour training delivered by the developer as the primary facilitator. We have the capacity to provide flexible training dates/times including weekends/evenings in collaboration with community agencies.
Course Summary
Course Description: Peer Support Specialists are people living in recovery with mental illness and/or substance use disorder and who provide support to others whom can benefit from their lived experiences. The North Carolina Certified Peer Support Specialist Program provides acknowledgment that the peer has met a set of requirements necessary to provide support to individuals with mental health or substance use disorder.
Upon completion class, students will be able to:
Define the roles and responsibilities of a Peer Support Specialist.
Describe how to work with a team.
Describe how to resolve conflict and adhere to ethics and agency standards.
Have resources to monitor and protect their recovery through the importance of self-care.
Great activities! I loved where we got to know ourselves and everyone and get to be in the now with our recovery stories. Loved how Terri listened to each and every one of us and gave us great feedback on homework assignments and personal recovery stories.
Course Details
Based on the 50 competencies required of approved Peer Support Specialist curriculum, all competencies will be taught and discussed in class through the use of lecture based on the text consisting of 15 chapters including an Introduction, Self-Care and Commitment to Personal Recovery, What is a Peer Support Specialist, What is Recovery, Substance use and Co-occurring Disorders, Understanding Mental Illness, Trauma-Informed Practice, Cultural Competency and Diversity, Stigma, Relationship Building: Values and Beliefs, Communication, Problem Solving, Facilitating and Instructing Groups, Conflicts in the Workplace, In Support of Military Service Members and their Families.
Embedded throughout the training to enhance the learning environment and the student's confidence through the practical application of roles are activities that include sharing of experiences, video vignettes, role plays, paired and group activities, Pause and Practice, and review questions at the end of each chapter.
A final exam is administered for which the students are adequately prepared to succeed.
The course is currently 100% online and delivered via the Zoom Platform.  The course will meet for 30 hours online via Zoom and be required to submit 10 hours of homework to the Instructor for Completion.  The total number of hours delivered equals the required 40 hours based on the North Carolina Peer Support Model Training Standard.
What to Expect After Registering
After registering you will receive the following:
Opportunity to discuss the program expectations and process with Training and Program Staff.
A short training application to complete and other details you will need to know about the event.
Detailed payment information (credit card and bank checks will be accepted).
Training Manual will be mailed to the provided address before the training event.
We do accept payment from third parties such as employers, vocational rehabilitation, and other vendors.
Things to Know
Please remember to be eligible to complete the CPSS process in North Carolina attendees must hold at last a GED/High School Diploma and be in sustained recovery for one year from a substance or mental health issue.
In addition, visit the North Carolina Certified Peer Support Specialist Program Website at: https://pss.unc.edu/.
Our training fulfills initial training requirements for the CPSS Application in North Carolina, there are other state requirements for those seeking certification. Additional requirements and the complete state application process and details can be found at: https://pss.unc.edu/certification?
Very relaxed. Did not feel that I was in a classroom setting with my 4th-grade teacher. Loved the manual. I could tell that real life experiences were conveyed.